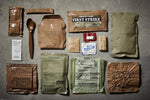 I can offer a number of different MREs, combat ration, and emergency rations at wholesale prices for delivery anywhere in the world!
We offer French RCIRs and UK ORPs at wholesale prices delivered anywhere in the EU.
I work with a number of different vendors both within the USA and abroad to get you the perfect MRE to fit your needs at the best price. 
I have experience sourcing, brokering and arranging deals for governmental and non-government entities of all kinds. 
Any quantity is available. I will give you a selection of choices and quotes to match your budget and needs. Please contact me directly at: mremountain@hotmail.com