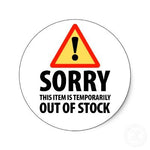 Unfortunately it's not possible to order out of stock items at this time. All of these foreign MREs and rations are extremely rare and difficult to source and obtain from overseas.
If you REALLY need something, just send me a message and I can find it for you :)
Follow us on Twitter and like us on Facebook for INSTANT restock and arrival updates!